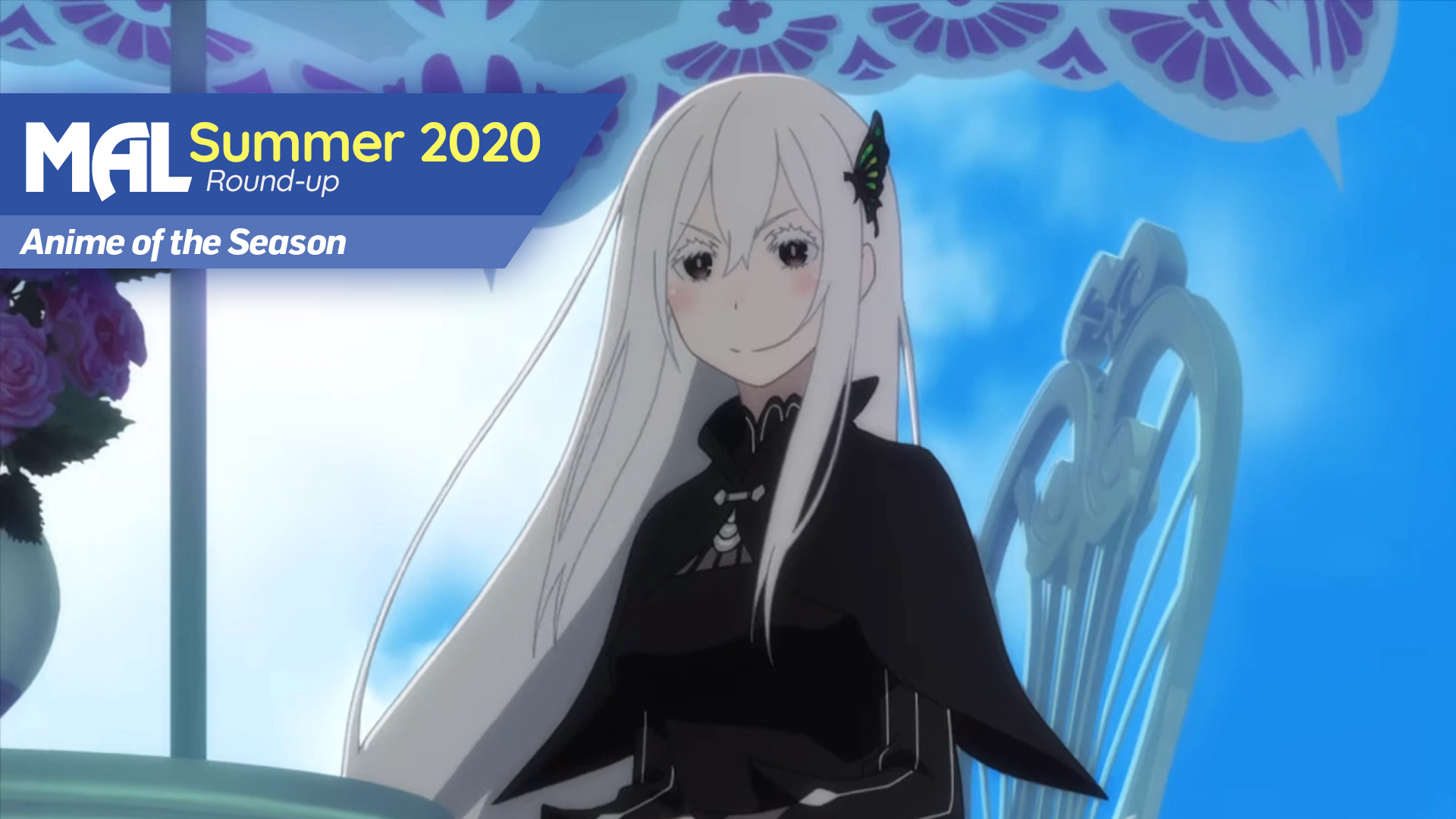 Welcome to the final of a three-part article series, where I'll be closing out the season with a detailed statistical breakdown of which shows kicked ass and which bombed spectacularly. In this volume of the Summer 2020 Round-up, I'll be covering the most important factor of them all: each anime's overall score and how they changed from their respective premieres!
It does feel a little empty to label Anime of the Season due to, well, the emptiness of new shows, but that won't stop me from giving these anime, good and bad, the recognition they deserve. I'll begin with a broad overview before proceeding to actually crowning the best sequel, best debut, and honorable mention(s).
All scores were recorded roughly seven days after each episode (i.e. just before the broadcast of the next episode).
---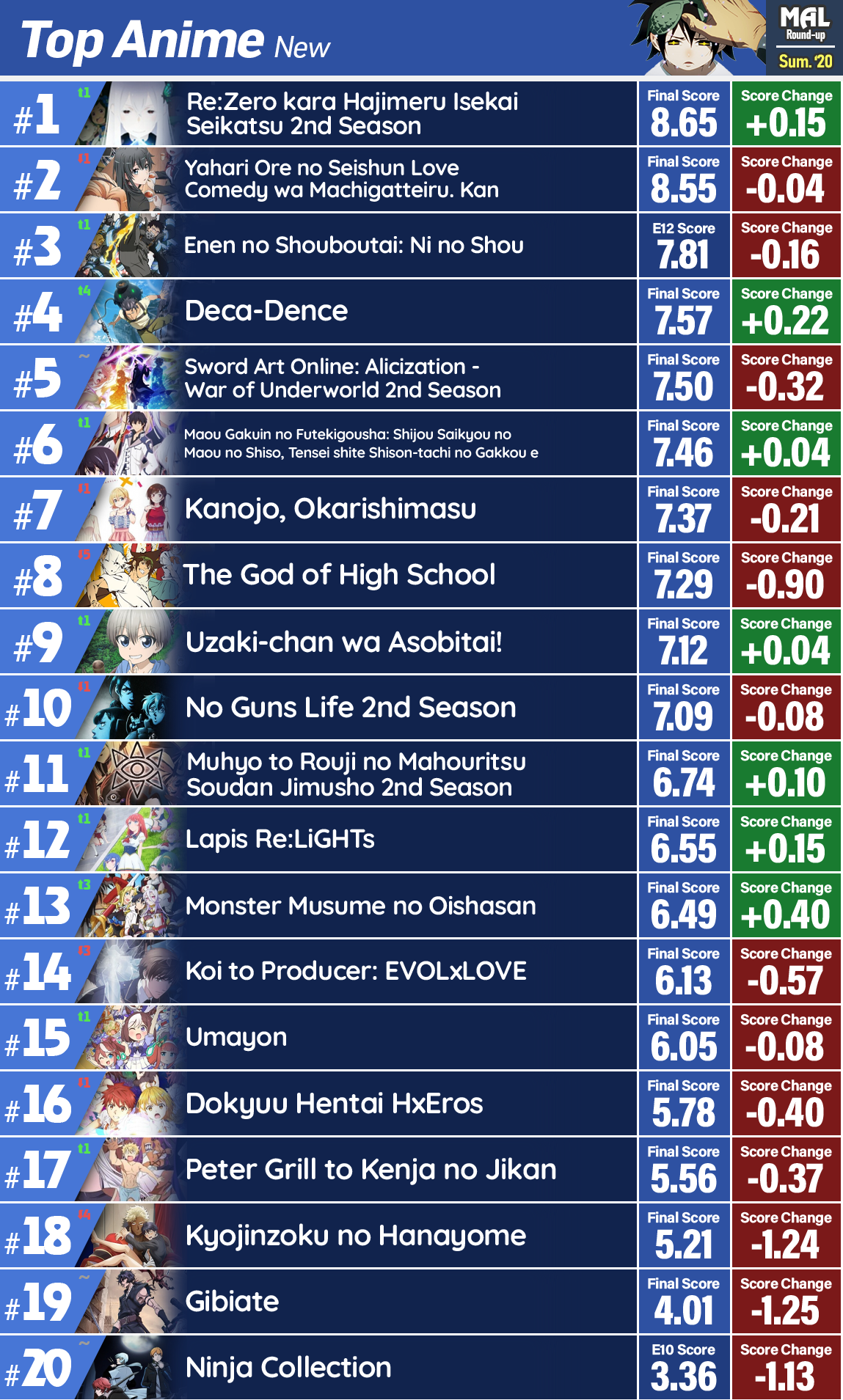 If you think about it, this list is a microcosm of our current pandemic situation, since the mass withdrawal of new anime has further stretched the class divide between the upper and lower echelons in score.... but right, yes, you're here for the anime.
It largely speaks for itself, but there are some interesting bits I'd like to highlight. Deca-Dence suffered an early setback with a divided reception to its second episode, falling 0.27 points to 7.08, but it steadily clawed its way back up to finish as the highest-rated debut anime of Summer 2020. Meanwhile, The God of High School suffered the worst overall Score Change I've ever seen for a top-of-the-line popular anime—this kind of collapse is typically reserved for the So Bad It's Good (or Maybe Not) dregs swirling around at the bottom, but that's just how the score cookie crumbles.
Kanojo, Okarishimasu was a bumpy ride in more ways than one—amusingly, its score went up by several points for the appearance of both Ruka and Sumi before quietly receding shortly after.
Enen no Shouboutai: Ni no Shou began with a blaze but eventually burned out with a similar trajectory to the first season, which sputtered from 8.13 to 7.75 within a similar timeframe.
Ninja Collection and Gibiate... let's just say that both are now in the bottom 10 TV anime of all time (oops).


---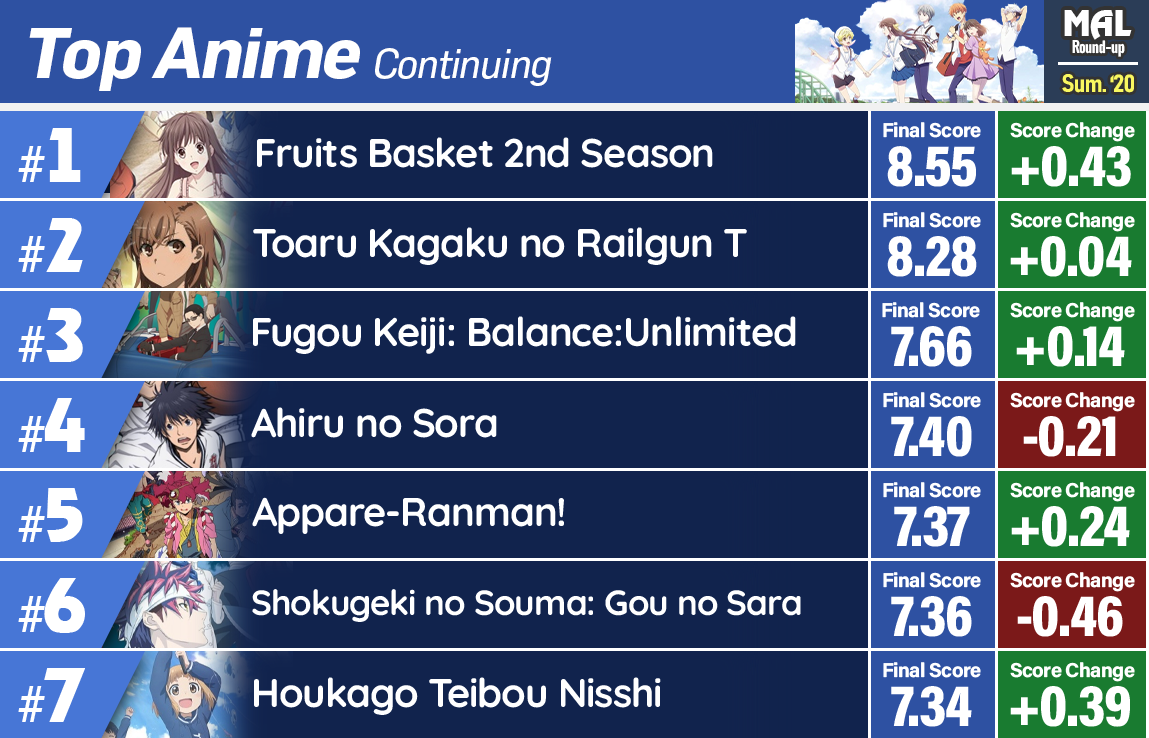 This residual list includes a mix of latter cours, delayed seasonals from Spring, and a long-running anime finally wrapping up after 50 episodes.
Fruits Basket and Toaru Kagaku no Railgun T recorded their best seasons (yet) by solid margins, while Shokugeki no Souma performed a spectacular diminuendo from the first course to this final dish.


---
So... what's Anime of the Season?
---
I typically like to incorporate a range of statistics in these decisions, more than just which anime had the highest score, but Re:Zero kara Hajimeru Isekai Seikatsu 2nd Season was the clear winner on all counts.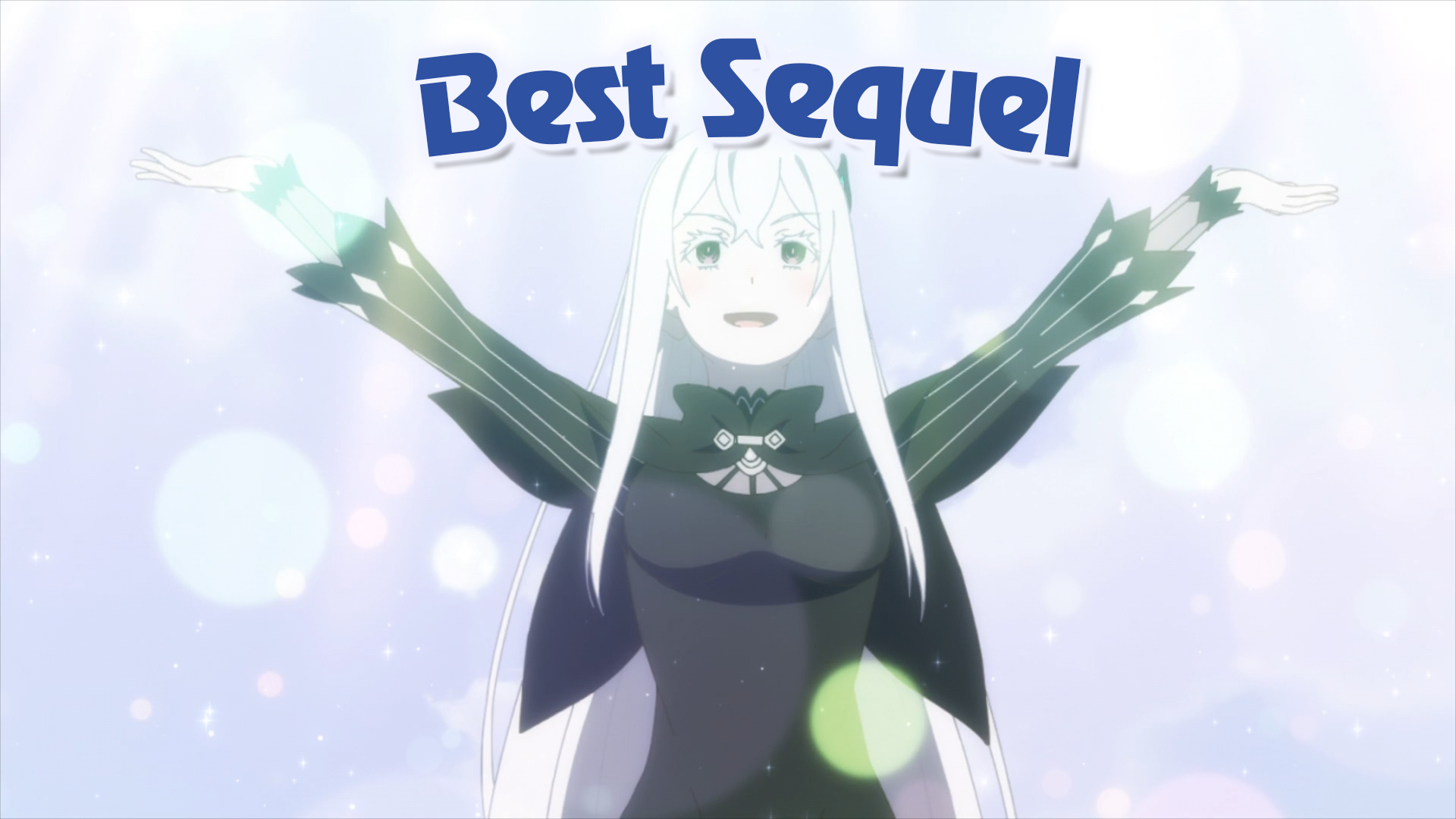 Of course, a "best sequel" should also be defined by how it builds upon the original. At the time of writing, Re:Zero kara Hajimeru Isekai Seikatsu 2nd Season stands proud at 0.32 points above the first season; Yahari Ore no Seishun Love Comedy wa Machigatteiru. Kan comes in second with +0.15, while Sword Art Online: Alicization - War of Underworld 2nd Season was cut down to the lowest-scored season of the whole three-part arc.
But, due to the difference in user behaviours between sequels and non-sequels, I must also reward a top debut anime (though it's a very small pool to choose from).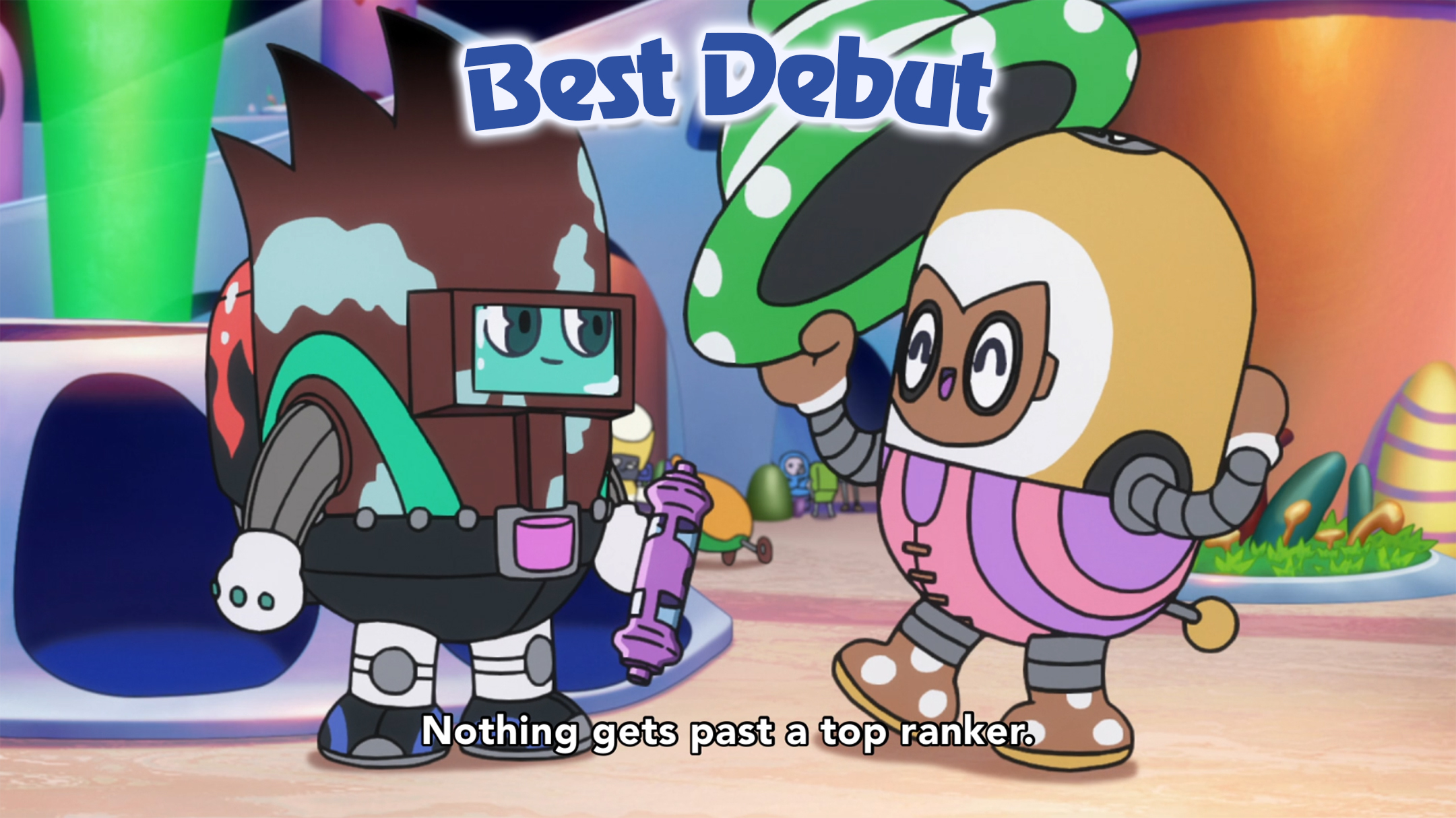 I considered Maou Gakuin no Futekigousha for its steadiness and heightened popularity, but Deca-Dence edges it out for me with how it aimed for the sky with something truly unique and triumphantly soared above its initial setbacks.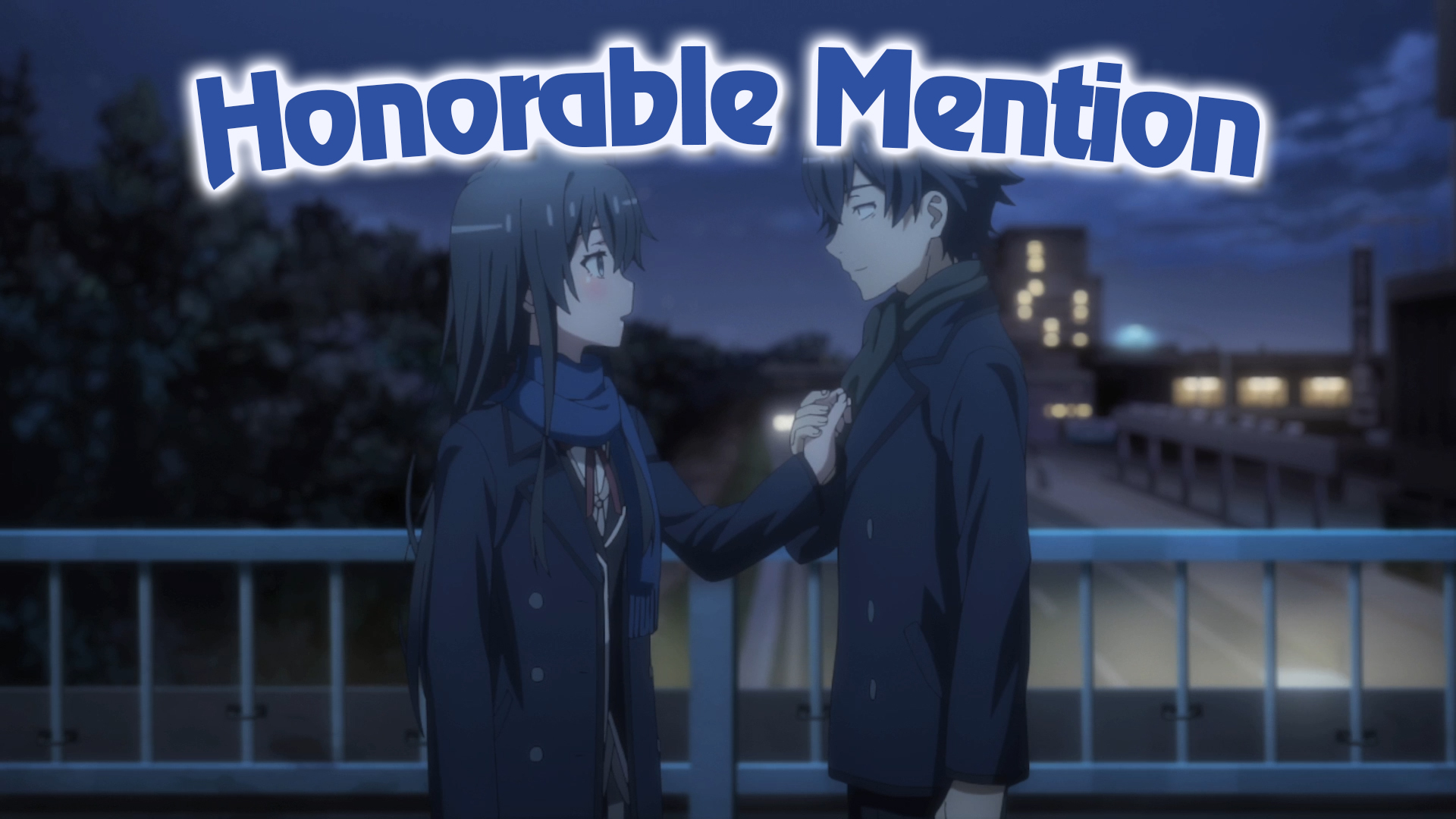 Yahari Ore no Seishun Love Comedy wa Machigatteiru. Kan couldn't quite take it home in the end for Best Sequel, but it still brought a beloved franchise, a romantic dramady no less, to a rare satisfying end.